Young and Lonely Foundation envisions for a world of great opportunities for all people, particularly for women and children development. We want to help them unleash their full potential.

Proudly, we are also part of the Learn2Change network!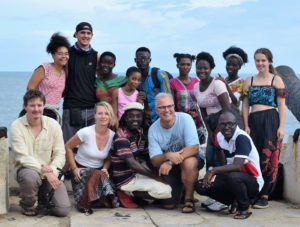 Climbing a good tree (documentary)
Watch our trailer for the upcoming documentary film "Climbing a good tree".
Latest news from YLF
Young and Lonely Foundation - YLF
REPORT ON A National Health Insurance Scheme – NHIS, SURVEY DATA COLLECTION (Target group-Women and children)
The Young and Lonely Foundation team, accompanied by two members (Nii and Rhema) from ARHR Accra, went on a survey on the 16th and 17th July with a set of questionnaire to be asked about the NHIS with the aim of assessing and improving the health policy in Ghana. The survey was held in three health facilities in Agona East District. The communities (Asafo, Kenyankor and Mankron) we visited were selected by the District Health Directorate officials.
We had a meeting to discuss how to go about this field work and to prepare ourselves a day before and again, met at Mr. Germain's office on the Thursday morning to finalize it all. We (YLF) were a team of six, which divided ourselves into three. ie (Mr Gilbert K. Germain and Grace Esiedu, Pearlings Amoah and Mark Martin Botwe, Priscilla Osei Jackson and James Tamakloe. Each group of two took one community to collect the data survey. The target group for this survey was Women and children. In Asafo, we (Mr. Germain and I ), did our survey at their health centre.
Unfortunately, Thursday was a market day and so most people had gone to the market leaving the health centre almost empty. However, we had a few people to interview on the Thursday and a good number on Friday. We had a smooth talk with them since the nurses told them about us and directed them to us once they were done attending to them.
They told us a lot of benefits they've had using the NHIS card especially in cases where they had little or no money and of course the negative part of it. According to some of the clients, if not for the NHIS, they'd have to resort to something else. They said sometimes they or their children or relative would be sick and all they would have to do is to pick their health insurance and a little money and take them to the health centers. The relief is that, if for nothing at all, it will help them pay a part of the bill. Others said if it's just malaria and the like, they just need their NHIS card and they're good to go.
On the contrary, some of the people hate going to the hospital with their NHIS card because they think it delays them. In the sense that, they feel they would be fast attended to if they pay everything with their money. According to them, once the nurses see you came with the NHIS card, they feel reluctant to even attend to you. They would sometimes prescribe some medications that can't even cure your ailment just because you came with an insurance card or even tell you they don't have some or all the medications you're supposed to be given and prescribe them for you to buy at a pharmacy. This reason and some others not mentioned, make them feel lazy to even renew it when it expires.
Some people also had problems renewing it. We witnessed a case like such, where the card has been renewed but when her details are inputted, the computer says the card is invalid/ has expired. The nurses said it's unlikely but very frustrating especially when it's an emergency and the patient isn't having enough money at the time. We took the opportunity to renew some few cards for some of the clients and taught them how to renew it themselves using MTN mobile money.
The group that did their survey in Kenyankor and Mankrong had a great time talking to the pregnant women and women generally. Educating them about their right to proper healthcare and of course the NHIS. Priscilla also spent a lot of time with the adolescents sensitizing them on their health rights.
Somehow, the soap we shared to the clients after interviewing them gingered some more people to ask us to interview them.
I must say, it was a fruitful interview. The reception from the nurses to the clients was amazing.