BOARD OF TRUSTEES
MR. JONATHAN AKUAMOAH – CHAIRMAN
Currently Jonathan is the CEO/Founder of TEAM CSR Ghana a consultancy that helps companies identify execute and measure impactful community projects as part of their Corporate Social Responsibility. He also serves as a direct supervisor to all the staff and works of Young and Lonely Foundation(YLF).
His nonprofit company has worked with major corporate such as Coca Cola, Vodafone, CHASE Petroleum, Goldkey Properties, Ocean Microfinance, MTN, Okyeame Kwame Foundation and many more.
He served for 3 years as Country director for United Way in Ghana, eight years performance at United Way of Metro Atlanta and as Executive Director at Quest 35 Inc. in the U.S.A, spearheading these agencies growth and success in many major initiatives.
During his leadership at United Way Ghana as the Executive Director, In less than One year he was able to bring in Corporate partners such as MTN, Vodafone, Airtel, Shoprite, Cummins, Chase Petroleum and many others. This transformed UWG signature event Day of Caring to great heights with new Media partners such as ETV, GTV, TV3, TV Africa, Daily Graphic and many more joining the yearly event. Under his leadership UWG established itself as the flagship for United Way Worldwide movement in West Africa.
For eight years he worked in different capacities to help market and promote certain initiatives at United Way of Metro Atlanta U.S.A, specifically the Regional Commission on Homelessness. His work with the homeless has been documented on CNN and other news network.
His background in communications gives him a unique ability to articulate, promote, and showcase any agency or business agenda to the business community, non-profit sector, volunteers, and local stakeholders.
In his last employment in the U.S. as Executive Director of Quest 35 Inc., a 150 bed facility for chronically homeless men, women, and women with children, he was responsible for a staff of case managers with Masters in Social Work, as well as being responsible for fundraising, collaborations and every aspect of running a well established non-profit agency.
Having had the pleasure of working in the non-profit sector and with the indigent population for more than 25 years, full time and part time, like the Butler Street YMCA, Milton Street Night Shelter, The Atlanta Union Mission, Nicholas House, Chris Kids, JFCS, and others has culminated in the founding of his nonprofit company TEAM CSR Ghana.
Even though he has lived in the United States for nearly 40years, Jonathan was born in Ghana and speaks his native language of "Twi", fluently.
He has committed his life to helping the underprivileged and those in need and continues in that capacity in his home country Ghana.
Dr Eric Akobeng (PhD, MSc, ECDL, BA) – VICE CHAIRMAN
Dr Eric Akobeng has a doctorate degree (PhD) in Economics from the University of Leicester in UK and Master's degree in Economics from the University of Manchester, also in UK. Dr Akobeng has strong technical and quantitative skills in economics and in statistical modeling in performing econometric analysis with macro- and micro-economic data. He has the experience of linking and managing large-scale database with extensive experience in programming with STATA, Eviews, SPSS, GRETL, survey design and analysis, social accounting matrices and input-output analysis.
Whilst pursuing his PhD programme, he acted on his own initiatives to produce and publish high-quality research. This resulted in three essays or chapters of his PhD thesis accepted for publication in three internationally recognized peer-reviewed journals (Quarterly Review of Economics and Finance, Journal of Economic Policy Reform and South African Journal of Economics) before his PhD viva. He has two other papers published in the African Development Review and the International Journal of Social Economics.
His research contributes to the knowledge necessary to reduce poverty and inequality. He is an active referee for international peer-reviewed journals including World Development, Journal of Applied Economics, Journal of Economic Restructuring, Economics & Politics, Quarterly Review of Economics and Finance, Economic Modeling, Agricultural Economics, African Development Review, South African Journal of Economics and International Journal of Social Economics.
Dr Akobeng is a lecturer in Economics at the University of Lancaster (Ghana campus). He taught different modules in economics as Teaching Assistant/Graduate Teaching Assistant at the University of Leicester in the United Kingdom. He won the Unitemp of the year award 2015 at the University of Leicester in UK for excellent teaching. He obtained the Leicester award under the UK Higher Education Achievement Report (HEAR) also in 2015 at University of Leicester for teaching.
Dr Akobeng has presented papers at a number of academic conferences including the 42nd Annual Conference of Eastern Economic Association held in Washington D.C, United States. In this conference, he also served as a chair of the session on "Economic Development in Africa and Property Rights Modeling". He attended and presented a paper at Econometric Society – 2015 Latin American Workshop in Economic Theory at the School of Economics UASLP – Mexico. He has also presented papers at the University of Leicester – Economic Department seminars. He presented seminar papers at the University of Lancaster (Ghana Campus), University of Northampton Business School (UK), University of Wolverhampton Business School (UK), University of Huddersfield Business School (UK), University of Northampton Business School (UK) and University of Ghana.
Dr Akobeng has worked in the area of development policy as Principal Budget Analyst with Ghana Ministry of Finance attached to Gomoa West District and Agona West Municipal Assemblies for Seventeen Years with substantial development policy experience. He had the opportunity to coordinate International Labour Organization, World Bank, African Development Bank and UNFPA projects.  He coordinated the activities of plan preparation teams to prepare public-private partnership plan, environmental sustainability plan, HIV/AIDS strategy, roll back malaria plan, rural infrastructure development strategy and community-based rural development plans.
BRIGHT AMISSAH NYARKO – SECRETARY
TIM PAULS – COUNTRY DIRECTOR (GERMANY)
Almost ten years have passed since I first got in touch with Saint Germain School in 2008. During my stay with Gilbert Germain as a volunteer I was fortunate to learn a lot about life and diversity. Driven by common values and a similar understanding of humanity it was clear that our encounter in 2008 was the commencement of joint journey towards a brighter future for disadvantaged children.  After spending several years in Latin America and India I started to work as a One-World Promotor for Sustainable Development in northern Germany. During this time, together with the staff of Saint Germain school, we developed educational material published by the German NGO "Verband and Entwicklungspolitik Niedersachsen e.V.". Beyond initiating and putting into effect new projects, my activities for Saint Germain school embrace the placement of volunteers as well as the support in IT and publicity related issues.
MADAM DOROTHY EGHAN – BOARD MEMBER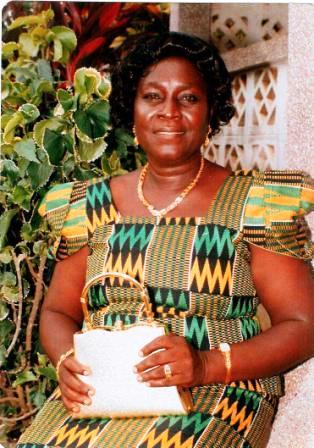 She is the Proprietress and Administrator of the St. Germain School Complex and the Patron of Young and Lonely Foundation.
She is lover of children most especially broken hearted and needy ones. She loves to support needy children in her neighborhood in Agona District and other surroundings.
Madam Dorothy, as the Proprietress of the Saint Germain School Complex, cares for about four hundred and fifty needy children in the school's boarding facility. YLF gives support in diverse ways as far as their housing, feeding, medication, clothing and education are concerned. The Children look up to her as their mother and role model, due to the moral ethics she trains them with, as a highly religious personality in a Christian denomination. She has an affection for brokenhearted children and loves to mend their wounded souls in need of love and affirmation of family. Children who come to her with wounded spirits go with smiling faces and with hope for the future. She is a child emotional therapist.
MR. CHARLES BEN DADSON – BOARD MEMBER
NANA KWEKU ESSIENI V. – BOARD MEMBER
---
---
DIRECTORS AND STAFF
GILBERT KOFI GERMAIN – CEO/FOUNDER
Well-motivated, energetic and possesses good interpersonal skills and an ability to communicate effectively on all levels within an organization. Can participate effectively into teamwork and use own initiative when required. Flexible and enjoys the challenges of meeting deadlines and targets and also enjoys meeting different types of people. Has from 1999 given himself to charity work. Having initiated the formation of Young and lonely foundation is currently the Executive Director. Very motivational, and has a special affinity for women and children.
Moreover, believes in practicality; and in the philosophy of influencing society to prosper. Has over the years served as mentor to younger colleagues and foreign volunteers who have worked with him and also been very active in consulting and planning to other smaller NGOs as well as consultant to entrepreneurial ventures.
Furthermore, in recent times, has been very active in the following:
• Implemented an innovation in collaboration with the department of social welfare called the (CHILD PANEL) which seeks to address the issues of CHILD-PROTECTION.
• Is a member of Disciplinary committee municipal assembly (Agona West)
• District AIDS Committee (Acting Focal person)
• Community developer
////////////////////////////////////
• Memberships:
i. Disciplinary committee municipal assembly (Agona West)
ii. District AIDS Committee (Acting Focal person)
iii. Disciplinary committee St Germain complex school (chairman)
iv. Board of trustee member at St Germain complex school
////////////////////////////////////////////////
• Travel and Tours
• N G O consultant
• Career counselor
• Family Counselor
• Business consultant
• Mentor to past foreigner volunteers
• Interests ( influencing society to prosper)
————————————————————————————————————–
Mr. G. K Germain is actively into supporting the needy, especially orphans, the less privileged and homeless children through personal/ friends/family savings and aids from donor agencies and philanthropists around the world. Mr. Germain has worked with Child Right Support Organizations in Ghana and has experience in child right campaigning. Presently, he is a member of Ghana's Early Childhood Development Project (child panel) under Ministry of Women and Children Affairs in The Agona District Assembly. Mr. Germain is a gentle hearted man with deep love for children. His ultimate wish is that children around the world would be given the necessary attention they need to develop a better future. He believes, through education, children would have access to a brighter future. He is neutral as far as religious denominations are concerned and believes that development of society comes by unity. Mr. Germain is the designate Administrative Officer and the Chairman of Disciplinary Committee in the St. Germain School Complex due to his leadership skill. He runs business advice services, estate developing, and travel and tours under his own entrepreneurship.
PHILIP DOE  AMAGLO – DEPUTY DIRECTOR
MUDASIRU MOHAMMED- ACCOUNT MANAGER
He is an Accountant and a member of the Association of Health Accounting staff Association of Ghana (HASAG). He is an indigene of Kpembi a suburb of Salaga in the Gonja East District of Northern Region but was born, bread and educated in Keta Municipality of the Volta Region of the Republic of Ghana.
After secondary training in Business Accounting from Keta Business College he proceeded to enhance his career and got enrolled at the premiere Polytechnic in Ho Volta region where he graduated with Higher National Diploma (HND) in Accountancy – Honours. He also had several trainings in project, procurement and logistics management, HIV and AIDS, STI's and Counselling skills.
Following his training as an Accountant, he offered himself for a year National Service and till date he works as a full time Senior Finance Officer for the Salvation Army Health and Rehabilitation Centre in Agona Duakwa. He is also the Schedule Officer IPPD for the Salvation Army Health Services a member of Christian Health Association of Ghana (CHAG) an agency under Ministry of Health.
He also works as an Accounts Manager on part time with both Young and Lonely Foundation and the Salvation PLHIV Support group in Swedru – Agona West Municipal and Duakwa – Agona East respectively in Central region of the Republic of Ghana.
Despite his work experiences which have mainly been accounting and finance related he has a passion of working with the minority group thus, actively involved in socio-cultural issues relating to vulnerable and marginalised groups in society within a scale of health care services.
In addition, as an Accountant he has partially worked particularly with the youths on leadership and skills development, behavioral management and mentoring. From 2009  to 2012 he has been a part time tutor in Auditing, Cost and Financial Accounting and Taxation at Success Remedial Institute (a private remedial school) at Agona Swedru in Central Region of Ghana.
He is currently a student fellow of the world largest Professional Accountancy body; Association of Chartered Certified Accountants (ACCA). Mudasiru has worked in different capacities mostly on committees to help promote certain initiatives even during his school days and at the various work places.

ALEX EYIAH DADZIE – PROGRAMS DIRECTOR
Alex hails from Saltpond in the Central Region of Ghana. He was born and raised in Agona Swedru.
Alex joined YLF in 2016 as a Field Officer and having knowledge about implementing and monitoring projects, he was appointed as Programs Director in 2017.
Alex is a graduate from the University of Professional Studies, Accra with a degree in Bachelor of Business Administration. His professional experience includes evaluating existing programs, research and development, developing and agreeing to strategies, maintaining and delivering all paperwork required to make sure that the organization's certifications remain intact and in good standing, stays updated on all laws and regulations and makes certain that all company operations are within the scope of those laws, establishes an overall annual program budget and then monitors each program to make sure the budget is not exceeded, develops comprehensive progress reports on all active programs to be submitted to the executive staff each week.
He also oversees the operations of Young and Lonely Foundation programs. His Business Studies background has earned him different and creative ideas in preparation and submission of annual activity-based report budgets as well as monthly and quarterly financial reports and sending of new funding requests.
EMMANUEL MARFO – FIELD COORDINATOR
GLORIA GERMAIN AFARI – SECRETARY
FREDERICK PACMAN KOFI AIKINS – FIELD OFFICER
JAMAL – FIELD OFFICER